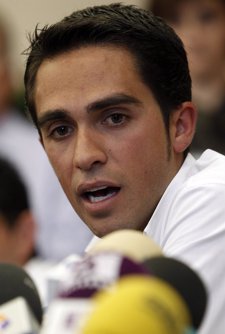 The International Cycling Union (UCI) has asked the Royal Spanish Cycling Federation (RFEC) to open disciplinary proceedings against Alberto Contador for an alleged doping case of clenbuterol during the Tour de France, played last July.
http://thecyclingsideoftheforce.blogspot.com/
UCI spokesman Enrico Carpani the confirmed that the international organization "has contacted the Spanish Federation and asked him to open disciplinary proceedings against Contador."


More than five weeks after the event was unveiled pinteño positive, the UCI has spoken for the first time in the case requesting the opening of disciplinary proceedings.
Ten days ago, the president of the Royal Spanish Cycling Federation (RFEC), Juan Carlos Castano admitted his "surprise" to continue without having any official communication by the UCI on the case.


Following the usual procedure in an alleged doping case, the Spanish Federation to decide in the coming months if opened disciplinary proceedings or exonerate the cyclist.
In any case, the UCI and World Anti-Doping Agency (WADA) they could always appeal to the Court of Arbitration for Sport (CAS) if they disagreed with the decision of the RFEC.


Contador, winner of three Tour de France has always maintained his innocence claiming that clenbuterol abnormal values were due to food contamination.


At a crowded press conference held last September 30 in his native Pinto, the rider pointed out that the amount found is one millionth "part of the banned substance, that" no good performance level "and that the UCI
had found that it was a case of food contamination. "


The Spaniard appeared that day to disseminate "an important message clear" to him and "the world of sports and cycling," noting that it was a "victim" of the whole affair.


A few days later, the American newspaper The New York Times said that Contador would have tested positive for blood autotrasfusión alleged doping control performed on 20 July, the day before the possible positive for clenbuterol.


According to the New York daily, blood in accounting would have been found in a plastic remains eight times higher than allowed in the control that was performed on the eve of the second and final rest day of last year's Tour.


The rider's brother, Fran Contador then said that that charge had "no sense" and warned that the cyclist would undertake appropriate legal action against "slanderous information" to emerge.
On 19 October, the Tour de France presented its 2011 tour with pinteño as notably absent.